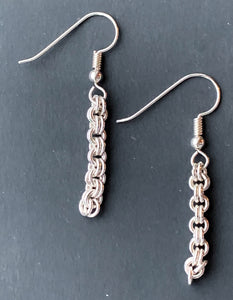 Sterling Silver Two-by-Two (2x2) Weave Chain Maille Earrings
These sterling silver 2x2 weave chain maille earrings are simple but make a fashion statement. 
They are 1-3/4 inches long from the top of the sterling silver ear wires. The ear wires can be replaced with sterling silver posts, surgical steel earwires or silver-plated clip-one.   Email Bernadette @ bernadettes11@gmail.com immediately after ordering.