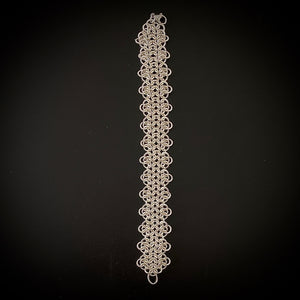 Sterling Silver and Twist Silver Chain Maille Bracelet
This bracelet of sterling silver and twisted sterling silver has a chain maille weave that is called European 4-in-1. The twisted silver rings give a special shine and interweave elegantly with the sterling silver. The bracelet is 1 inch wide and is available in lengths from 6" to 10".

SIZING: Measure the wrist at the smallest part and add 1 to 1-1/4".

SHIPPING: When you order one of the other lengths, it will be custom-made so, please add an extra 7 days for shipping. You can contact bernadettes11@gmail.com for a more exact shipping date.