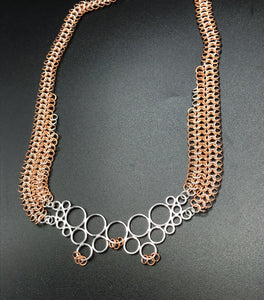 Sterling and copper Pendant on Sterling and Copper Chain Maille
One-of-a-kind...Statement piece with lots of chain...sterling silver rings are soldered together holding dainty copper rings in trios.  The chain is a European 4-in-1 chain maille weave that gradually decreases in width.  The necklace is 20" long.
This necklace may be lengthened up to 1" or shortened free of charge.  If an adjustment is requested, please allow up to an extra three days for shipping.