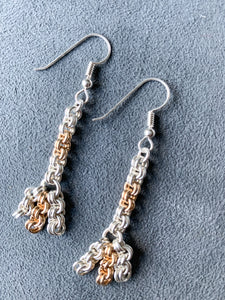 Silver and Gold 2x2 Chain Maille with Dangle Earrings
These earrings have a 2x2 sterling silver and 14k Gold Filled* chain that culminates in a Triple 2x2 Chain dangle.  It is 2-3/8 inches long with sterling silver earwires.
The earwires can be changed to surgical steel earwires or silver plate clip ones…..bernadettes11@gmail.com
*"Gold-filled" is a U.S.A. industry standard that legally requires 1/20th or 5% pure gold by weight. It is a strictly regulated process that involves pressure bonding multiple layers of sold 14k gold with extreme heat over a core of high quality jeweler's brass resulting in a durable, quality, real gold product. Because the outer layer of gold is thick, unlike gold-plated, your piece will not tarnish, flake or fade. If one is not allergic to gold, it is unlikely one would get a reaction to gold-filled. While gold-filled remains a less expensive alternative to solid gold, its considerable gold content makes it about twice as expensive as sterling silver.