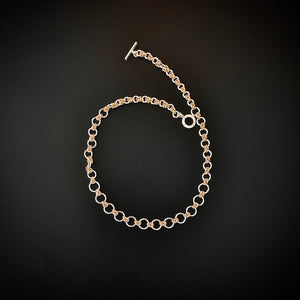 Graduated Knots and Rings Silver and Gold Chain Maille Necklace
This necklace has a knots and rings pattern with 14k Gold-filled* "knots and Sterling silver rings.  The rings are larger in the middle and gradually get smaller toward the back of the neck.  
The necklace is available in lengths from 17 inches to 23 inches.
SHIPPING: Only the 19" length is available for immediate shipping.  If you order one of the other lengths, it will be custom-made so, please add an extra 10 days for shipping. You can contact bernadettes11@gmail.com for a more exact shipping date.
* "Gold-filled" is a U.S.A. industry standard that legally requires 1/20th or 5% pure gold by weight.  It is a strictly regulated process that involves pressure boding multiple layers of sold 14k gold with extreme heat over a core of high quality jeweler's brass resulting in a durable, quality, real gold product.  Because the outer layer of gold is thick, unlike gold-plated, your piece will not tarnish, flake or fade.  If one is not allergic to gold, it is unlikely one would get a reaction to gold-filled.  While gold-filled remains a less expensive alternative to sold gold, it's considerable gold content makes it about twice as expensive as sterling silver.