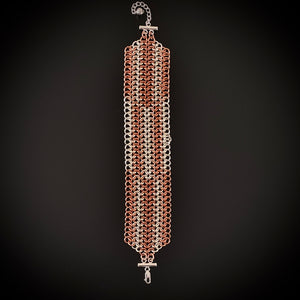 Copper and Sterling Silver Chain Maille Bracelet
This 4-in-1 weave chain maille bracelet has a pattern of alternating copper and silver long "blocks". It is one of those "feel good" pieces...slinky like silk. It is 1-1/2 inches wide and has a sterling silver lobster claw clasp with a 1-1/2-inch extension.

It is available in lengths from 6" to 10". To determine the correct size, measure your wrist (at the smallest part) and then add 1 to 1-1/4 inch to get the bracelet length that should work for you.

CLEANING: Dip the bracelet in hot vinegar. Let it be until it gets clean.

SHIPPING: When you order this bracelet, please add an extra 10 days for shipping. You can contact bernadettes11@gmail.com for a more exact shipping date.