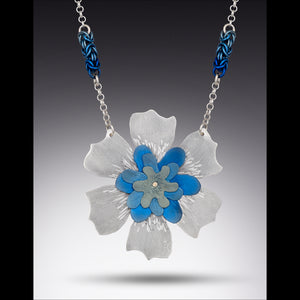 Blue-Shaded Silver Flower Necklace
One-of-a-kind:  This necklace has an exquisite flower pendant with a sterling silver base and a three layer anodized niobium* petals in three shades of blue.  The handmade chain is a 2x2 sterling silver chain mail weave with inserts of anodized niobium blue byzantine weave segments.  A sterling silver lobster claw clasp form the closure. 
* Niobium (Nb) is a reactive metal similar to titanium.  An electrical current passed through it will change the surface color (anodized).  The amount of voltage applied will determine the color.  It is hypoallergenic because it is resistant to acids and alkalines. To clean, if it loses its shine, use any window cleaner.  It costs about the same as sterling silver and is a bit lighter in weight.  While the anodized color does not fade, it is a surface color and can scratch but not readily.